A well-trained organization is the first step toward being an

efficient

and

effective

one.
The Solution Infusions' approaches for Problem Solving and creating Strong Intellectual Property are proven effective across a range of fields including basic technology development, material development, process and equipment development, product design, and even in manufacturing systems.
We can teach you our approaches, so you can build your organizational capacity and become more efficient and effective. We offer training for practitioners (those doing the work), as well as their managers because they play an important role in bringing to life new work processes in their organizations.
We offer:
Classroom training: Live training with topics brought to life via real-world examples
Mentoring: Hands-on 1:1 or small group sessions in which we help trainees learn on the job
See what to expect from the training below or Contact Mark at The Solution Infusion for more details.
What to Expect in Classroom Sessions
Mark Kline is known as a dynamic and effective trainer. Classes are highly interactive with minimal lecture and maximum discussion.
We offer training our Solution Creation Approach and 4 levels of Intellectual Property (see below). The IP training for people who are working with Patent Attorneys (such as to prevent exposures, file IP, and/or put in place legal agreements). It is not for Patent Attorneys.
Depending on the topic, classes for practitioners are either half-day or full-day. Classes for managers can be as short as 1 hour. They are ideally held in groups of 20-30 students, but if needed the groups can be smaller. For example, manager training may be 1:1. Large group classes are ideally held live at or near your site. Small group training (less than about 5 students) can be via video.
After the training, we provide any specific recommendations for the group or individuals for additional mentoring, as well as results of the Knowledge Check & a Course Evaluation.
The 4 levels of IP training and their target audience are:
Basic IP Training is for people who are not yet working with attorneys to file IP, but are in positions where they need to take steps to protect future IP. Attendees learn their role in ensuring future IP rights are protected, including ensuring a technology that may be the subject of a future filing is not exposed and that basic legal requirements are met.
Early Inventor Training is for people with minimal or no experience working with attorneys to file patents. They learn their role in inventor and how to best work with attorneys.
Strategic Inventor Training is for people with significant experience filing patents and are beginning to own IP protection for large, strategic areas. They learn how to develop and implement a broad and deep IP Strategy.
IP for Managers is for people who directly or indirectly manage IP practitioners. They learn their role in creating a culture that supports and encourages strong IP.
What to Expect of Mentoring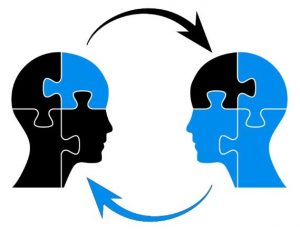 On the job mentoring reinforces & takes a deeper dive in the skills taught in our training.
We work 1:1 with individuals and/or small groups to help them apply our Solution Creation and IP approaches on the job. The individual will ideally have taken our training and will be trying to apply it on the job.
This is done typically via ~1 hour sessions (via phone/video) over a period of 3-6 months.
For practitioners, we use real-world examples from the mentee's own work to further enhance their use of the approaches. We provide a summary of progress made in the mentoring sessions over time, along with recommendations for further skill development.
For managers, we use real-world examples to help them better understand how they can fully enable their organization to get results from our approaches. We share perspective on how your organization is making progress in leveraging our approach & provide recommendations to better enable your organization.